Emerging Artists' Playhouse
A New Opportunity for Young Artists
Independent Artists' Playhouse is thrilled to announce the opening of the Emerging Artists' Playhouse. We are so excited to now be able to offer opportunities to young performers ages 12-18 in the Atlanta area! Our goal is to challenge and inspire young people to develop their artistic and creative skills, empower them as performers and individuals, and encourage them to connect with each other and their community as artists.
About
We're starting our inaugural season with a production of Footloose. If cast, students will not only be part of a high quality musical production, but their experience will also include a professional photo shoot for promotional purposes, and the opportunity to participate in a master class with a Broadway professional. There will also be opportunities for interested students to participate as an intern on the production team and gain valuable behind the scenes experience.
For more information on the show (synopsis, cast requirements, etc) please visit http://www.rnh.com/show/38/Footloose
AUDITION INFORMATION
Auditions will be held on January 7, 2018, from 6pm-9pm at Bravo Dance Center, located at 5340 Brookstone Dr NW #108, Acworth. Rehearsals (location tbd) will be Sundays from 2-6pm, and Thursday evenings from 6-9pm, beginning 1/18.
Performances will be held at the NEW Theatre on the Square, 11 Whitlock Ave NW, Marietta, on April 13, 14 and 15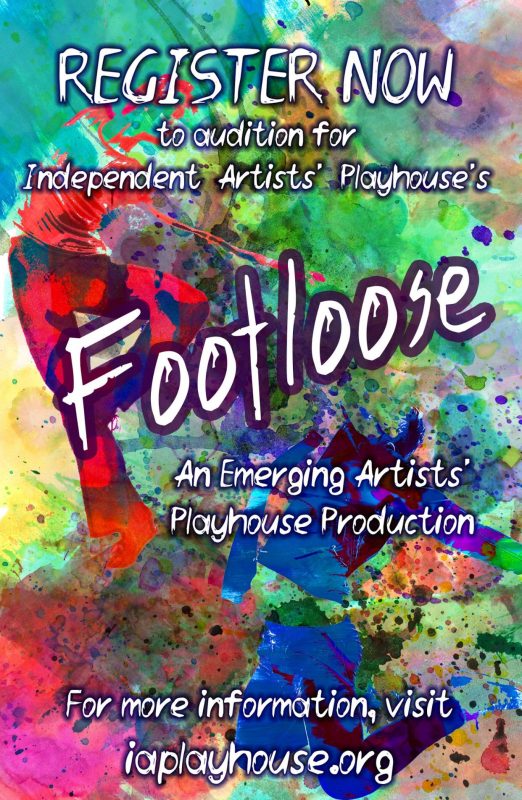 AUDITION REQUIREMENTS
Bring a resume and headshot (does not have to be a professional photo)
Come prepared to participate in a group dance audition – please wear dance attire or clothing you can move easily in, including appropriate dance shoes.
Prepare a 16 bar/1 minute cut of a song you feel best showcases your vocal ability and personality. You will need to bring your own cut tracks ready to play on your device.
Please sign up here to reserve your audition time. Note: the time you are signing up for is the time your audition will begin. Please arrive 15 minutes early to ensure you allow time to have paperwork filled out. You will dance first and then sing, with a quick break in between to change clothes if you wish. From your start time, the entire process will take about an hour to complete.
Tuition
Tuition for the spring 2018 season will be $275, and will be due with your signed contract once casting is complete, at the first rehearsal on January 18th.
If you have any additional questions, you may email artistic@playhouse.org
SIGN UP FOR AUDITION HERE
PAY TUITION